Chiparamba Great Eagles
– One of Zambia's few well organized football clubs.
---
Chiparamba Great Eagles (CGE) was founded 1996 in Lusaka, by Lennart Backman and Dan Allback – two devoted football fans and ÖIS supporters – together with Nenani Banda from Zambia. The organization is run as a football academy, aimed towards children and youths (both boys and girls), within the age of 6-18 years old. The academy organizes six practices a week, and has 260 children participating (190 boys and 70 girls). CGE has eight teams that plays in the largest, and most reputable youth league in the country – League "Yathu".
Football is Zambia's national sport and is being played all across Lusaka, on clay or gravel fields (grass fields are almost non-existing or limited to the best parts of the country). As one of the most reputable and merited academies in Zambia, the children's dream in Lusaka is to one day play for CGE. Since being established, CGE has produced a number of players for Zambia's U17, U20 and the Men's National Team. When Zambia surprisingly won the African Cup of Nations in 2012, two of the players came from CGE. In addition, CGE has been a reoccurring participant in Gothia Cup (the world largest youth football tournament in Gothenburg, Sweden) since 2000, with two championships under their belt (2004 & 2009).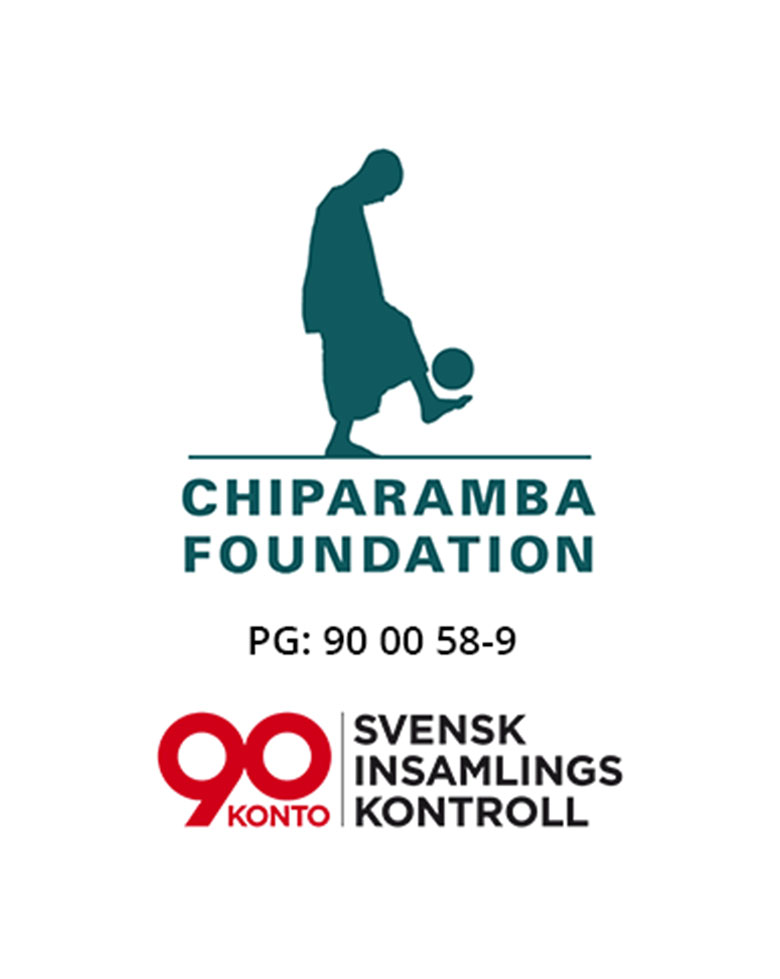 Chiparamba Foundation - eng.
---
The Chiparamba Foundation was founded in 2004, by initiative of Klas Bjorkhagen, together with the founding members (Lennart & Dan) of Chiparamba Great Eagles. During 2004's Easter break, Klas visited Zambia in search of a project he could raise money for, in conjunction with his 50-year-old birthday. The idea was to have his friends and family contribute to a charitable cause, instead of giving him birthday gifts.
During his trip to Zambia, he experienced and witnessed, first-hand, the miserable conditions the children in Lusaka was living under, and the idea for starting the Chiparamba Foundation was born. In October 2004, this idea became a reality and the Foundation was established. During his birthday celebrations, a total of 170,000 SEK was donated to the Foundation.
Since the launch, the foundation has supported roughly 150 children's education each year. The funds to support the foundation's goal are mainly collected from membership fees, charity events, and donations from various companies.
Statues
Latest Annual Report
---
Chiparamba Foundation - sv.
---
Chiparamba Foundation bildades 2004 på initiativ av Klas Björkhagen, tillsammans med Lennart Bäckman och Dan Allbäck, som redan 1996 grundat Chiparamba Great Eagles. Under påsken samma år hade Klas åkt ned till Lusaka för att hitta ett biståndsprojekt att samla in pengar till i samband med den stundande 50-årsdagen. Tanken var att be vänner och bekanta samla in pengar till ett välgörande ändamål.
Den chockartade upplevelsen, framför allt att bevittna under vilka eländiga förhållande barnen i Lusaka lever, förde tankarna till att starta en stiftelse. I oktober samma år blev drömmen verklighet då stiftelsen bildades. I samband med födelsedagen samlades grundpotten in, 170 000 kronor.
Under dessa tio år har stiftelsen stöttat skolgång för cirka 150 barn varje år. De insamlade medlen har främst kommit från fadderverksamhet, välgörenhetsgalor och donationer från företag.
Stadgar
Årsredovisning
---
The operations and development of Chiparamba rely upon the commitment and pro bono work of the people involved as well as the donations received from our sponsors. If you believe that the work we are doing is important, please consider becoming a supporter of Chiparamba by giving a donation below. Your contribution will be exclusively allocated to the Chiparamba Foundation, a non-for-profit organization supervised by a Swedish government agency (90-konto).
---
Swish
---
If you are a Swedish resident you can use swish to make a donation.
Use number 123 900 05 89 and enter your e-mail address in the comment field.